Pitch
Dec 2, 2018 23:27:48 GMT
Post by PitchBlack on Dec 2, 2018 23:27:48 GMT

I, made you. Don't you get it...
I MADE YOU!
I AM. YOU!
You, are nothing, without me...
-Pitch

☆Personal Information☆
Full Name:
Tyler Ross
Codename:
Pitch
Nickname(s):
Son of (a) Pitch, PitchBlack, "The prophet"
Age:
25
Gender:
Male
Race:
Empowered
Ethnicity:
American
Orientation/Sexual preference:
Heterosexual
Blood Type:
O+
☆Appearance☆
General Appearance: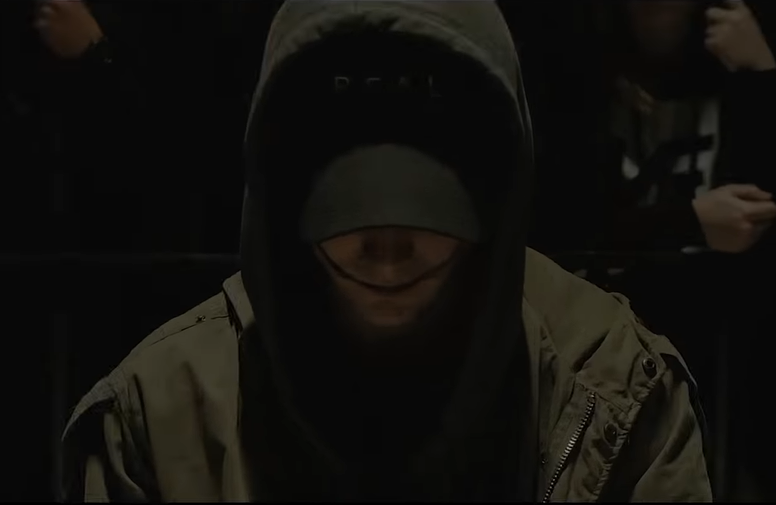 Height:
5' 09"
Weight:
185 lbs.
Eye color(s):
Blue
Body build:
Strong
Extra extremities:
None
Hair color(s):
Brown(Dyed Black when in costume)
Discerning Features:
Black spit causes his inside of mouth and his teeth to stain black, his tar blood makes his vain's to show more profusely with black coloration
☆Personality☆
General Personality:
Most prominent personality trait:
Persistent in enacting a change, and to hopefully change the future.
Best traits:
Persisteance and will to do the right thing.
Worst traits:
Pessimistic and misguided in his goal.
Likes:
Mostly very bitter foods that remind him of home, others who share his views, piano music.
Dislikes:
The weakness in modern society, Overly flavourful foods, bloody knives, Naive people, Magic.
Fears:
Being forgotten, this is the main reason he is so extremist in his goal to change the world. He gets an anxiety attack when he sees a bloody knife. Magic.
Goals:
To temper the worlds hero's, and make them stronger to fight the things yet to come.
Habits:
licking his lips, covering them in more sticky black spittle.
☆Character Information☆
Current faith or religion:
None
Current superstitions/quirks:
He is a very true believer of magic, and he fears it.
Alignment:
Lawful Evil
Marital status:
Single
Occupation:
Terrorist
Family:
Deceased mother and unknown father.
☆Power/Abilities☆
Powers and Abilities:


Invincible Tar Husk
: His body is built of Asphalt and tar, his bones are these hardened coal like structures, his skin is pigmented rubbery tar, his blood is very thin tar, and so on. making him virtually immune to bludgeoning attacks, they simple stop against him, and he is incredibly hard to injure other then hitting his core, a larger version of a heart thats a big bag of muscle that pumps tar through him like blood, this blood will seal all wounds he has virtually instantly, and enables him to regrow and survive with things a normal human could not over the course of days.
Pitch Black Soul:
He is also able to emit a cloud of asphalt gas from his respiratory system that is pitch black in nature, and with this material he can move it around to create hurricane strength winds which he can hurl objects with or fling himself and others around, he can sense anything with this cloud like a distant sense of touch and taste, he can hear through it with vibrations, speak through it with generated vibrations.
He can rapidly build up masses of tar to create walls and bludgeoning attacks or even glue his enemies to an object, or even then glue their mouths shut. He can use the gas as a powerful abrasive by creating an obsidian like glass shards from it. He may also generate the glass into objects and buildings of crude design.
He is able to stuff this gas in people's bodies and choke them, if he succedds at killing them he can control there bodies for a few hours, but has limited access to there memories, skills, and powers.
Weaknesses:
Big Core:
Attacks that hit his torso are likely to hit his core, which when this happens he will begin spraying a quick hardening tar that will eventually envelop him in itself, causing him to become immobile and no longer able to control his cloud, all the pitch gas will simply fall to the ground.
Temperature Weakness:
High temperatures will melt him and his gas, he will become very ineffective at combat, only able to fire weak blasts of sludge until he can reform himself(Takes days to do this). If hit with a hot enough heat he will crystalize and become an imobile statue until melted. Cold will harden his body, at first strengthening his attacks at the cost of making them rigid and easy to dodge, and eventually he will become nearly immobile.(Takes until warmed up to recover)
Overpowered:
The strong hurricane winds he emits have a very ow level of control due to the sheer magnitude of it.
No, just no:
He has put a vow upon himself that he will never touch a weapon, ever.
Blind spot
: Tyler can not see through his cloud, he can see whats in it, but not beyond that.
No Magic either:
Tyler is weak to magic, due to his inept fear and beleif in it, it is easier to affect him and hurt him with magic.
Skills and Talents:
He has supreme survival skills in a myriad of situations, knows a good deal about the operation of watercrafts and marine biology. Is very athletic and hasmediocre unarmed training.
Equipment:
Only the clothes on his back, he has yet to accumulate some major coin.
☆History☆
Current residence:
Wherever needs to change the most
Birthplace:
Unknown location in the flood world
Memorable Figures:
His mother, who fought for him when he was little and sacrificed her life for his goal
General History:
Tyler lived a wonderful life for someone from the flood world, he grew up only half starving, he had the opportunity to not catch a terrible illness that would make him a mutated fish monster, and he had a mother that cared for him. His mother, named Pitch Ross, was scrounging for clams, a sort of currency in the world of the drowned, where she was raped and left for dead on a small island, covered in cuts that did not heal, fortunately her own ability to spit a tar like substance helped her cover the wounds to keep from dying due to blood loss, then many, many nights later. Tyler was born, originally he didn't have a name, usually names were reserved for children who survived longer than a year, when it was time to name him she decided "Tyler", she warded everything from him, he was all she had in this terrible world, she taught him the ways of this terrible world. This world was the drowned man's land, a world ruled by the powerful Dagon, who even with the world's greatest heroes fell to him after a long battle, and he ruled this earth for many years. Ever since Tyler was 10, he resolved to change the world, to travel back in time and make the heroes strong so they could beat the mighty Dagon. She just laughed at her naive child, time travel isn't possible, it is just a nymph tale told by wandering merchants. This didn't cause him to waver in his goal, he continued to grow stronger, eventually challenging the emperor's soldiers, being a creature who could resist almost all damage and create powerful ways to destroy his foes. One fateful day he meets a mage, who tells him that he could send him back in time before the days of Dagon, at the cost of the blood of the one he loves, he told his mother, and said he wouldn't dare do this, saying he would rather be in hell with her then heaven alone. She doubtlessly hugs him, but not before plunging a knife into her chest as she embraced her only son, he cried for the rest of the day and long into the morning, where the mage encountered him again and granted his wish, to go back before the days of Dagon…